FONT
SHARE THIS
MORE STORIES
---
Investigators say Kyrons family cooperating as search continues
Details

Jennifer Anderson
UPDATE • Sheriff's office tries to dispel rumors about boy's disappearance
Investigators in the Kyron Horman case spent part of Friday's press conference dispelling rumors and focusing instead on leads in the investigation, urging the public to continue looking for the 7-year-old boy who has been missing for 15 days.
---
A statement from Kyron's family, read by sheriff's officials, also urged people to keep their eyes open for any sign of the boy.
'Your interest is overwhelming,' according to the family's statement. 'It hurts us deeply, and our heart is broken. Please help bring Kyron home.'
---
• Click here to download the new flyer and questionnaire about Kyron.
---
There was one new piece of information: 'Terri is the last-known person to have seen him before he disappeared,' Multnomah County Sheriff's Capt. Jason Gates said, contrary to previous reports of someone else who might have seen the boy afterward.
Gates said he's releasing that information now, with support of Kyron's family, to jog people's memories about anything that might've happened that day at the school.
Gates declined to comment on whether there are any suspects or persons of interest in the case.
A dive team from Clackamas County searches a pond near Northwest Skyline Boulevard Friday afternoon as part of the investigation into Kyron Horman's disappearance. TRIBUNE PHOTO/L.E. BASKOW
'We're still exhausting [information on] every individual,' he told reporters. 'We can't say for certain it wasn't a stranger-to-stranger.'
When pressed about the role stepmother Terri Horman played in the case, Gates only said: 'Terri's being cooperative with the investigation. The whole family's being cooperative.'
This week, investigators sent a questionnaire to Skyline parents and students asking about their memories of Kyron's whereabouts on the day he vanished, including any sighting of his stepmom's pickup truck. That question reads: "Did your child see a white Ford F250 truck at or near the school on 6/4/10?"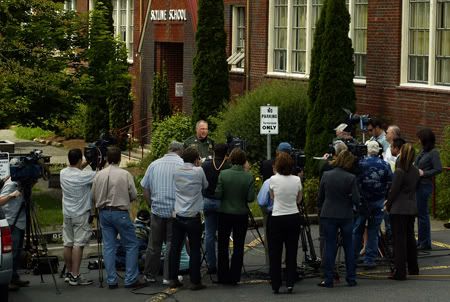 Sheriff's Capt. Jason Gates talks with reporters Friday, June 18, in front of Skyline School. Gates tried to dispel rumors and false information about the investigation into the disappearance of 7-year-old Kyron Horman. TRIBUNE PHOTO/L.E. BASKOW
In addition, investigators and dive teams have spend several days scouring the water around Sauvie Island, but law enforcement officials have been tight-lipped about the reason for the search.
---
• Click here to listen as Capt. Gates reads a statement from the Horman family, Friday, June 18.
• Click here to listen as Gates answers questions about the investigation.
---
Willamette Week cited Friday five unnamed law enforcement officials who say Terri Horman's cell phone 'pings' showed she was on Sauvie Island the day Kyron disappeared - which differs from her account of her whereabouts that day.
Gates also said that a sheriff's captain was no longer living around the clock with the family, but does have regular contact with them. Kyron's biological mother and stepfather are still in Portland as the investigation continues, he said.
Uncle in a Washington jail
Regarding Kyron's uncle, Kristian Horman, Gates said detectives are 'following up on that,' working with detectives in the Seattle area.
Kristian Scott Horman of Everett, Wash., (and brother of Kaine Horman, Kyron's father) was convicted of child molestation charges (stemming from another child) Wednesday and booked into Snohomish County Jail with no bail, as first reported last week by the blinkoncrime website (http://blinkoncrime.com).
According to the Snohomish County Sheriff's Office, Kristian Horman was originally arrested in February 2009 for third-degree child molestation in the October 2008 case of his 15-year-old stepdaughter. He was released on parole and not in custody until being convicted and booked into jail June 16. He was sentenced to 180 days in jail. Third-degree child molestation is a Class C felony.
Rebecca Hover, a Snohomish County Sheriff's Office spokeswoman, said she's 'not aware of any law enforcement agency that's called our agency about Kyron or Kristian Horman.'
Swamped by calls of interest from the national media, she said, she has checked with her county's major crimes and special investigations unit, and they had not been familiar with any connection to the Kyron Horman case.
According to Kristian Horman's booking documents, he had no prior record of criminal charges other than failing to renew his vehicle registration. The molestation incident occured when "they were all in the same house, in the same bed," said Hal Hupp, the prosecutor in the case. "He almost immediately admitted he'd done what he'd done."
Hover said Kristian Horman has declined to speak to the media, but refers calls to his Seattle attorney, Donna Johnston.
Johnston did not return the Tribune's call seeking comment.
Social media rumors
Gates also dispelled some of the recent rumors that have floated around on social networking sites, some of which mistakenly reported that the boy's body had been found.
'We understand the community has many questions,' Gates said, 'But we're trying not to make any mistakes; to be as perfect as we can in investigating the case.'
Hundreds of search and rescue teams from across the state and the Northwest searched for 11 days around Skyline School in rural Northwest Multnomah County for any trace of Kyron after his stepmother reported him missing. The FBI child abduction unit joined the search - unprecedented in its magnitude - in the first couple of days.
It is now considered a criminal investigation.
The shocking and mysterious nature of the case is still attracting nationwide media attention, landing on the cover of People magazine on Friday and having been a fixture on CNN and other network news programs over the past two weeks.
KPAM 860 and Tribune reporter Jim Redden contributed to this news story.