FONT & AUDIO
SHARE THIS
MORE STORIES
---
It just doesnt snow like it used to
Snow in Portland is all talk and little bluster . . . almost
Duane Cook has sold more than 200 snow shovels already this winter, and we're hardly into January. Cook, owner of Pearl Hardware on Northwest Glisan Street, has worked at his family hardware business since 1965. He says back then, the family's store, called Uptown Hardware, might sell 30 snow shovels for an entire winter. Which is ironic, given this apparently little known fact: It hardly ever snows in Portland anymore.
---
It used to snow in Portland. Big time. The average annual snowfall in downtown Portland in the 1870s was 20 inches. In the winter of 1871-72, it snowed 50 inches, followed by 30 inches the next winter and 36 the following.
---
• How much has it snowed in the area since the late 1800s? Click here to see the NOAA chart.
---
That was nothing compared to the winter of 1892-93, when nearly 61 inches of snow hit the ground.
Even through the 1950s and '60s, significant snowfall was common in Portland: 24 inches in 1955-56, 20 inches in 1959-60, 13 inches in 1964-65 and 26 inches in 1968-69.
In the early part of the 20th century, a permanent tow rope lifted skiers up the north side of Mount Tabor.
The past 10 years? Portland has averaged 2 inches per winter. Almost all of that came in December 2008. Take away that winter, and downtown Portland has averaged 1.5 inches of snow per winter during the past decade. In seven of the past 10 years, the city has seen an inch or less of total snowfall.
And yet, snow, more than ever, seems to be a topic of conversation. Schoolchildren go to bed praying for overnight snow that will allow them to miss school the next day, and stores such as Cook's get a run on snow shovels that might never be used. Cook says 30 years ago, the family hardware store didn't even bother to stock many snow shovels through the winter.
TRIBUNE FILE PHOTO: L.E. BASKOW • The last big Portland snow was in December 2008 when 14 inches buried cars and disrupted public transportation for several days. Take away that winter and Portland now averages 1.5 inches of snow a year.
It may be the infrequency of snowfall here that breeds the civic obsession with it, says Gresham resident George Miller, a retired meteorologist and author of 'Pacific Northwest Weather: But My Barometer Says Fair!' Miller has noted how in recent years the media 'goes ballistic' every time there's a possibility of snow in Portland.
'For snow in Portland, there has to be a puzzle with many pieces, and they all have to fall into place,' Miller says. Usually they don't. Usually, we have five or six false alarms for every real snowfall.
There are a couple of reasons for that, says Clinton Rockey, a meteorologist with the National Weather Service in Portland. First, there is that puzzle. Snow in Portland requires precipitation, which arrives here off the ocean, from the west, and cold air, which generally arrives from the east.
That's not as unlikely as it sounds, Rockey says. The combination actually occurs frequently during the winter. The problem is that the cold layer of air aloft often isn't quite thick enough to stand up to the warmer, southerly winds that precede the moist air off the ocean. Those fronts moving west to east travel in a counterclockwise, swirling pattern, which is why the southerly winds come here first.
'It's a fickle, minute difference that makes a difference between snow and rain,' Rockey says.
That's not the primary reason behind all the false alarms, according to Rockey. The real problem is that forecasters don't have accurate readings from all that weather heading here off the ocean because, well, it's coming here off the ocean.

AVERAGE SNOWFALL BY DECADE IN DOWNTOWN PORTLAND
(Data from National Weather Service)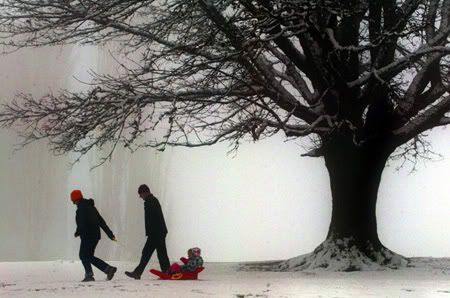 TRIBUNE FILE PHOTO: L.E. BASKOW • Council Crest Park can be a good place to sled - when there's snow. But Mt. Tabor used to be better, with a tow rope up its north flank in the early 20th century.
Weather heading to the East Coast has been monitored by weather stations in the Midwest. Weather heading to the Midwest has been monitored as it crosses the Great Plains. So when a weatherperson in New York or Chicago says it's going to snow, it probably is.
'We've got a couple of buoys that, if we're lucky, the storms haven't damaged, and a few ships, but overall, you don't have the density of observations like you do have for the rest of the country,' Rockey says. 'It's a tough prediction.'
But if forecasting snow here is difficult, recognizing weather patterns after the fact is pretty easy for Rockey.
'It used to snow a lot more often,' he says.
Long cold snaps used to be more common in Portland, and we just haven't seen many of those in the past 10 years, Rockey says. Back in 1951, he points out, Portland saw the last of its big late-winter snowstorms - eight inches in March. The last, large early winter snow was Dec. 19, 1964 - eight inches again.
In fact, while Portlanders might hope for a white Christmas, snow here in December is rare. With the exception of 2008, it hasn't snowed more than an inch in November or December since 1998.
That's just fine with Randy Johnson, environmental systems division manager for the Portland Bureau of Transportation. Johnson has worked for the bureau since he started out shoveling sand off the back of trucks in 1979. Today, he's the incident commander, deciding who goes where once a storm hits.
Johnson hates snow in Portland. He hates the mess, he hates the unpredictability, he hates the expectations, sometimes unreasonable, that he feels are placed on his crews.
Thirty years ago, Johnson says, people were satisfied when city transportation crews simply cleared streets of snow, sometimes just one lane in each direction. Now, he says, the expectation is that bike paths and light-rail and streetcar lines will also be cleared, and people often aren't satisfied with one lane - they expect the road to be as wide as if it hadn't snowed at all.
Yet the transportation bureau has the same number of trucks to do the work as it had 30 years ago: 55 dump trucks that can be outfitted with plows in front and sand spreaders in back. The only change is that more of the trucks can be turned into plows today.
Sanding the streets is especially controversial. Many Pacific Northwest cities use salt, but Portland does not, due to environmental concerns. Johnson says that Washington state has given up on sanding and turned almost exclusively to chemical de-icer, but Portland has been slower to make that switch.
When city crews throw down sand and gravel during a snowstorm, they have to come back once the snow and ice has melted and street sweep it back up. Leave it on the street too long, Johnson says, and he gets hundreds of calls from people complaining that their car windshields have been cracked or their car's finish has been dented by the gravel. And sand left on streets ends up in bike lanes, making bicycling more treacherous.
A few people put in claims with the city each winter, according to officials in the city's risk management division, but most shouldn't bother. If leftover gravel spins up from a car tire and dings your car, the city considers that a road hazard, and the policy is to not honor the claim.
Still, there's expense. 'It costs us three times more to clean (sand) up than it does to put it down,' Johnson says.
Many of the same things that bedevil Portland residents make Johnson's job harder. First, there are those false alarms. Johnson says that for every time his trucks go out to plow during an actual snowstorm, they've chained up and attached the plowing and sanding equipment for a false alarm at least a half dozen times.
TRIBUNE PHOTO: CHRISTOPHER ONSTOTT • Many are called, but few are chosen to actually hit the streets. Nevertheless, the city's Bureau of Transportation equipment coordinators, such as Allen Berkey (above), chain up their trucks and attach snow plows at least a half dozen times for every one actual snowfall - due to meteorological false alarms.
Drivers unskilled in snow
Portland residents who moved here from farther east are well aware how incapable most residents are driving on snow. Local meteorologist Miller, who has lived in Salt Lake City and Denver, figures the infrequency of real snow might be the culprit - people here never get enough practice driving on snow.
Johnson says he's got the same problem with his crews when they head out once or twice a year to plow.
'The unfair part about here is that you don't do it enough to get really good,' Johnson says.
During the December 2008 storms, Johnson's crews worked 12 hour shifts, around the clock for seven straight days. Those drivers had never done anything like that before. Some of the drivers, under pressure from residents on hilly streets, tried to clear roads that even their chained up trucks couldn't negotiate, which resulted in a few trucks sliding off the roads themselves.
Johnson's holiday wish is that people would stay at home as much as possible during a snowstorm so his crews can clean the streets, but he says that more and more, people seem intent on driving despite the conditions. The plows can't be used unless there's at least an inch of snow on the ground because the metal plows tend to break if they scrape against the street.
'But it only takes one-half an inch for people to not know how to drive on it,' he says.
Donald McElroy has had his share of Portland snow controversies. McElroy was the executive deputy superintendent for Portland Public Schools from 1968-97 - the guy making the call and taking the heat for school closings.
McElroy says that back then, schools didn't close as often for light snow.
'I moved here from back east, and I didn't think you were supposed to close if it snowed,' McElroy says.
Which isn't to say everybody accepted that hard-line policy. McElroy says that deciding whether to close schools during a snowstorm was among the most controversial things he did.
'We've had people almost threaten to come do physical harm,' McElroy says. 'They figured if they had to go to work, the kids had to go to school.'
Those prayerful schoolchildren, by the way, should know that Portland Public Schools hasn't had to declare any snow days the past two winters. The December 2008 storms forced districtwide school closures for three days.