FONT
SHARE THIS
MORE STORIES
---
PEDALING THROUGH HISTORY
Details

Jason Vondersmith
City's bicycle plans 114 years ago rival today's grand bike path proposals
It's ironic that in today's Portland many people, young and old, ride their bikes for transportation and to save money on gasoline and automobile upkeep. It's the thing to do in the city that rivals Minneapolis as the nation's most bike-friendly town.
---
Flash back, oh, about 114 years, and riding bikes had not yet replaced the horse, buggy, stage coach and good ol' two feet as the means to get around. Cars were only fantasy then.
As Matthew Hampton, senior cartographer for Metro, looks over his reprinted map for bicyclists from 1896, he marvels about the 'elitist' fascination with the two-wheel phenomenon.
'Bikes were really expensive,' he says. 'You see this ad for a bike for $100 - 'Built like a watch' it says - and in today's dollars that would be about $2,500. Only really wealthy people could afford bikes back then.'
Certainly there are expensive bicycles these days, but just about everybody can afford one. And, looking back at the 1896 Multnomah Wheelmen 'Bicycle Road Map' for Portland, Hampton also points out that some things have not changed since then - people still looked for the best possible paths to ride their two-wheelers.
The 41-year-old Hampton used the old map as inspiration when he headed the project for Metro's new 'Bike There!' map, the all-encompassing guide to the best routes for you and your healthy and thrifty mode of transportation. 'Bike There!' is a guide to existing and future bicycling routes, and the suitability of the paths, stretching from Hagg Lake (west) to Dodge Park/Oxbow Park (east) to Champoeg State Park (south) to Stub Stewart State Park and portions of Clark County, Wash. (north).
If you can't find a safe or convenient way to ride your bike on the map, then it doesn't exist. Just like back in 1896, when the maker of the map, J.H. Cunningham, a civil and hydraulic engineer, penned all the details for the Multnomah Wheelmen.
'I had seen this map for years and, at the start of the project, I wanted to get my hands on it,' he says. 'Just to start us a foundation. It's good to start historically and move from there.'
A glance at the map gives a good view of Portland yesteryear. For Hampton, the most fun part has been to examine the bicycle paths and their suitability ranks, which he incorporated into 'Bike There!'
The legend indicates paths as 'Good roads shown thus,' 'Fair roads shown thus' and 'Poor roads shown thus.' Pretty simple, huh?
'They're really almost identical,' he says, of 'Bike There!' and Oregon Wheelmen's map, 'and the same in terms of 'Good roads shown thus.' That's what it is. You sort of want to distill things down to their element.'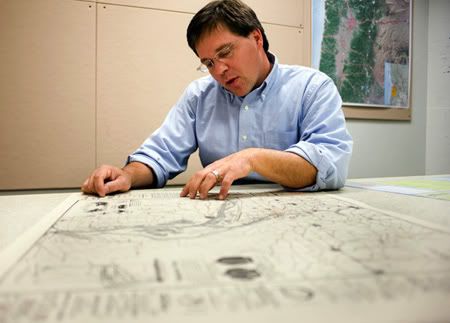 TRIBUNE PHOTO: JEFFREY BASINGER • Cartographer Matthew Hampton (above) reached back in time to draw Metro's new "Bike There!" map, inspired by an 1896 map (below) made for the Multnomah Wheelmen, an upper-class set of bicycling enthusiasts.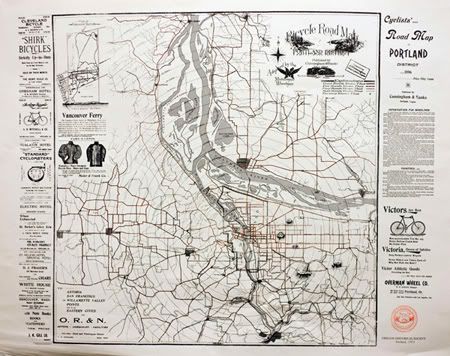 A good brake
Back in 1896 there were popular thoroughfares for the bicyclists, including what is now Highway 30 to St. Helens. It reads:
'One of the easiest and most picturesque runs out of Portland is the 30-mile run to St. Helens. After leaving Linnton, the road is all that could be desired, and the grades comparatively easy. Later in the year it is quite dusty in places. For ladies and those wishing to not make the round trip by wheel, a delightful day may be had by taking the OR and N steamer from Ash Street at 7 a.m., arriving at St. Helens about 9. Then you have nearly the whole day to enjoy the scenery along the road. And lunch you may have taken may be daintily served at one of the many Spartan streams to be found at 11 or 12 o'clock. This run should be made when the wind is from the north.'
Other popular routes were Canyon Road and Cornell Road. The map reads: 'It is not safe to ride the Cornell Road without a good brake. The sharp angles and steep grades have caused many accidents.'
Other main roads then were Sandy, Foster and Baseline, the predecessor to Stark, and going to Oregon City via Milwaukie and River roads was considered a long voyage for bicyclists, 'then you'd take the train back to Portland the next day,' Hampton says.
(A funny note about the map. Lake Oswego used to be known as Sucker Lake, 'it was just a slough backwater thing, filled with suckers,' Hampton says).
'These were transportation roads for horses, they were not specifically building bike paths,' he says. Oregon Wheelmen were rich people, involved in politics and able to push for better roads - the good roads firmly packed dirt with oil. 'Bicycles came along and kept getting flats,' he adds.
Cyclists were also the driving force behind bike motels and hotels and, the humorous thing about their map, it includes sites of popular taverns.
'I really wish I could have put brewpubs and taverns on ('Bike There!'), which they did. Truthfully, it would have been too cluttered,' Hampton says. 'What's interesting about cartography is you can look at a map and see what was important at the time, culturally. Back then, it was taverns, the only other element on the map other than bike suitability.'
No flat tires
The Oregon Historical Society reprinted the map in 1973.
Hampton, a Montana native, has worked on Metro maps for several years. Mapmaking, like everything, has evolved with the use of computers, but Metro used the same 'extent' and insets for the map since 1983. Only with the latest version of the bicycle path map did Hampton strip everything off, build it and expand it.
'I said, 'Let's roll up our sleeves and really do this,' ' he says. 'It had never been for users, it was almost a planning document or planning tool.
'We held some focus group sessions with citizen cyclists, a variety of ages, of all experiences and genders. … We tried to determine key destinations north, south, east and west, for a sort of collective sense of regional identity. … And, we really tried to define a suitability rating system, which is somewhat subjective; in previous years the classifications were very planner-esque.'
Along with street routes, the map includes bike-friendly paths like Springwater Corridor, Power Line Trail, Eastbank Esplanade, Steel Bridge, Mt. Tabor, Powell Butte, and local trails such as Laurelhurst Park. Future routes such as Tonquin Trail from Wilsonville to Tigard and Sherwood, Westside Trail from Tigard/Tualatin to Beaverton, Trolley Trail from Milwaukie to Gladstone and Cazadero Trail from Boring to Barton have also been included. Absent is any designation for the city's ambitious Portland Bicycle Plan.
'I could have put tons of stuff on it,' Hampton says.
Again, sometimes simpler is better. Just look back to late 19th century.
'The 1896 map was for recreational riders,' he says, 'and where they could ride where they weren't going to get a flat tire.'