FONT
SHARE THIS
MORE STORIES
---
And now, live across the nation . . .
Details

Jason Vondersmith
Portland's Live Wire! Radio sets its eyes (and ears) on national audience
Live Wire! Radio is a hit in Portland. Maybe it could be a hit nationally.
---
The show's organizers want to see whether the variety show can become syndicated.
'When the time is right, which it's feeling like we're right there,' says Robyn Tenenbaum, co-creator, co-producer and booking agent. 'Our show is feeling like it has all the bones.
'We've learned a great deal. To incubate a show takes seven to 10 years, we've learned. But it's tricky. In the public radio world, you can be picked up by a distribution arm, like NPR, and they can do the work for you, or you can be an independently produced show. That's what we would be.'
Until all the stars, sponsors and air time aligns, Live Wire! Radio continues to generate evenings of stage fun with authors, writers, musicians, actors and other entertainment and business types. It started about seven years ago as the brainchild of Tenenbaum, Kate Sokoloff and others and recently made another step in its evolution by moving to the refurbished Alberta Rose Theatre, 3000 N.E. Alberta St., and increasing the number of shows produced.
Live Wire! has ramped up to tape two, one-hour shows per night twice each month from August to June (except January), meaning it will be aired each Saturday at 7 p.m. on OPB (91.5 FM), while also being streamed at www.livewireradio.org.
Tenenbaum likes the new, intimate setting at Alberta Rose, where the theater will usually be packed with about 300 people. Live Wire! used to record its shows at the Aladdin Theater. The Wordstock show in October will be at the Aladdin. A summer show is being recorded at the Gerding Theater.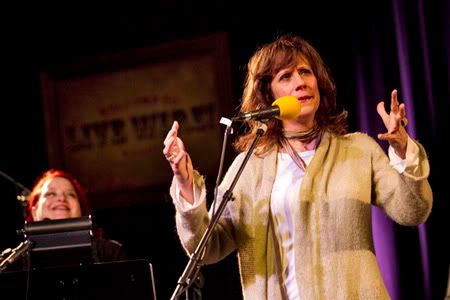 Lizz Winstead, co-creator of The Daily Show and Air America Radio, shared her political satire with the Live Wire! audience at the Alberta Rose Theater on Sept. 10. TRIBUNE PHOTO: CHRISTOPHER ONSTOTT
The first show at Alberta Rose, taped Sept. 10, 'was jam-packed; we had to turn people away,' Tenenbaum says. 'The vibe on the street was wonderful.'
The second Alberta Rose show will be 7:30 p.m. Friday, Sept. 24, featuring journalist Tom Bissell, author David Oliver Relin ('Three Cups of Tea: One Man's Mission to Promote Peace … One School at a Time'), Burgerville Chief Executive Officer Jeff Harvey, performer Johanna Stein, blues band Hillstomp and Seattle quartet Moondoggies. Admission is $15, or $30 for reserved seats.
It's just the sort of eclectic lineup that Live Wire! strives to attract.
The criteria: 'Anybody who has an interesting story to tell or who is doing interesting things, from Portland or Oregon or just passing through,' Tenebaum says. The usual lineup includes an interview, a musical guest and a performance component by an essayist or storyteller, all interwoven by sketches from Live Wire!'s Faces for Radio Theater.
The most recent show featured Lizz Winnstead, co-creator of 'The Daily Show with Jon Stewart,' musician Bobby Bare Jr. and the Portland Opera chorus.
Keeping it alive
Tenenbaum says the variety show format still works for radio, and she says Live Wire! works best by being able to edit before broadcast. She used to work on 'West Coast Live' in San Francisco, and it was unedited. 'We get the gratification of editing,' she says. 'The live audience gets special treats that might not be FCC approved.'
Going national would be the show's next step.
'We've never plateaued,' Tenenbaum says. 'We knew we'd never have the opportunity to be a national show if we couldn't air weekly. This called for a weekly show, for OPB and other stations across the country, which is what we're about to engage in.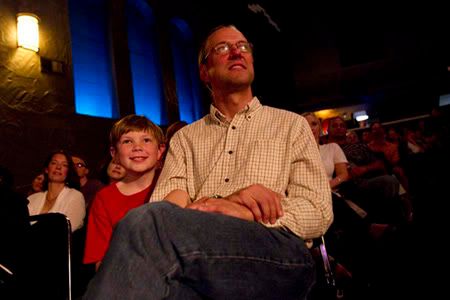 Live Wire! is recorded in front of a live audience, aiming to connect communities through live music and performance, unpredictable conversation and original comedy. TRIBUNE PHOTO: CHRISTOPHER ONSTOTT
'We try not to keep it Portland-centric. We are doing important and entertaining stuff, so people in Des Moines (for example) would want to hear it. We like to push the public radio envelope.'
Tenenbaum says Live Wire! can follow the lead of such shows as 'Wait Wait … Don't Tell Me!' and 'This American Life' in going national. Then, of course, you have 'A Prairie Home Companion,' maybe the preeminent variety show on radio.
'I hope radio is not a dying breed,' she says. 'It seems that keeping it alive this way and in a live format is something to be treasured.'
Oregon Public Broadcasting has helped other shows reach more national audiences, but Sokoloff says that Live Wire!, which raises its own money, wants to try to go it alone and not be aligned with a public broadcaster.
'It's been an endless question, but we're on the side of keeping our independence,' she says. 'By virtue of being on OPB, that's a huge facilitation, it's one of the most respected (radio, TV) stations in the country. I'd like OPB to brag about us to get us in front of other station managers.'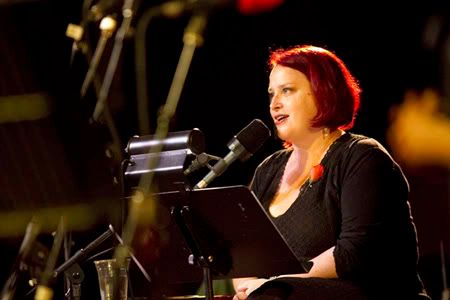 Courtenay Hameister, associate producer, head writer and host for Live Wire!, believes a national audience would create even more exposure and incentive for guests performers. TRIBUNE PHOTO: CHRISTOPHER ONSTOTT
Last year, Live Wire! officials had a meeting with American Public Media, which produces 'A Prairie Home Companion.'
Sokoloff adds: 'They were thrilled that there was a show as good as it was coming from the Northwest.' But, American Public Media considers 'A Prairie Home Companion' its variety show brand.
Live Wire! continues to have strong sponsorship from the likes of New Belgium Brewing and grant funding.
The show has featured such notables as actor Daniel Stern, 'Family Guy' writers, 'Lion King' puppet maker Michael Curry (who lives in Scappoose), late comic artist John Callahan, the Dandy Warhols and Storm Large.
Creating images
Head writer/host Courtenay Hameister, along with writers Sean McGrath and Tyler Hughs, makes sure everything clicks.
'We've found this great place where we all speak the same language,' Hameister says. 'This season we're having a guest writer for every show.'
Hameister remembers joining Live Wire! five years ago, and 'we never felt like we struggled. We had to find our footing, but, luckily we also had an incredibly supportive audience.'
As far as going national, Hameister adds:
'I absolutely feel like we're ready. If you listen to national shows, I feel we're absolutely on par. The talent that comes out of Portland is unquestionably ready. That's the reason we've created more shows every month. It's a leap that took us a long time to make.'
A national audience would create even more incentive for guests. It's more exposure.
'We want to continue to play with the medium as much as we possibly can,' Hameister says. 'The thing about radio, and writing sketches, you can create any image within people's minds.'