FONT & AUDIO
SHARE THIS
MORE STORIES
---
Taking them to the prom
Details

Jennifer Anderson
After 17 years, PPS worker still putting on special dance
Like most of the 600 kids on the dance floor, Tony Nitz is lost in the music.
---
Headphones on, he nods to the beat as he works the DJ booth, pausing often to shake hands with teachers, take a request or chat with a student.
He plays 'Zoot Suit Riot,' 'Macarena,' Dancing Queen' - all the crowd favorites - on his iPod, which is hooked up to the giant sound system at downtown's Crystal Ballroom.
It looks like he's rocking the house.
Kids of all shapes and sizes jump, spin, sway, stomp - anything to feel the beat.
That's because this is no typical high school dance.
It's called Earthstock, a prom for special-needs kids that Nitz - a testing coordinator at Northeast Portland's Madison High School - has put on for the past 17 years, with no budget other than a few thousand dollars from his own pocket each year.
It's clear at once - on this Friday in mid-April - that there's no place he'd rather be.
'This is an amazing day,' he says, beaming. 'When you're 40 years old and have no kids yet, this is my legacy. If I end up doing nothing else, I'll be happy.'
All around him, high school kids from special education classes across Portland Public Schools and about a dozen districts from throughout the metro area are focused not on what they can't do, but what they can do.
They do wheelies in their motorized wheelchairs, take turns at break-dancing, snake through the crowd in a conga line, and some even slow-dance in pairs.
Some wear helmets to protect their heads; others wear large headphones to filter out the noise, since too many sounds can be painful for people with autism.
But that doesn't stop them from spinning, bouncing, dancing any way they know how.
Those who've known Nitz over the years know that Earthstock is only one thing he's done, quietly and without fuss, to brighten the lives of his students.
On the evening of April 28, Nitz did have a short moment in the spotlight when the Portland Trail Blazers recognized his work with Earthstock - in front of thousands of fans at the Portland-Houston playoff game - as part of the Blazers 'Make it Better' campaign.
Besides local media coverage, Nitz says this is the only honor he's received.
At Madison, where Nitz has worked for the past 17 years, he's somewhat of a behind-the-scenes jack-of-all-trades.
His full-time job is to manage all statewide testing for students.
He's also the assistant athletic director, adviser to the freshmen, sophomore, junior and senior classes (helping to plan dances, fundraisers and the like) and the school's 'year disc' adviser.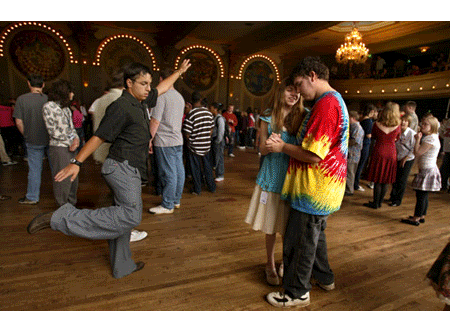 TRIBUNE PHOTOS: L.E. BASKOW • The 17th-annual special-needs prom called Earthstock gears up at the Crystal Ballroom on April 17. About 600 Portland-area high-schoolers attended.
The year disc, of course, is the new version of the yearbook at some schools like Madison, which have a high low-income and immigrant population that couldn't afford the books at $50 a pop. Madison was losing money on the books, so the school switched from book to CD format four years ago.
When he's not working on the yearbook disc, Nitz occasionally teaches some after-school enrichment classes for the Schools Uniting Neighborhoods program.
'I have no life of my own,' he jokes.
In fact, his life is his kids, those who know him will attest.
A roundabout way to Madison
Nitz, a stocky guy with an easy smile, calls Madison his home, in more ways than one. Born and raised in Portland, he lived a few houses within the high school's neighborhood boundaries but didn't enroll there when it came time for high school because his mother didn't like the school's reputation at the time, he said. It was the 1980s, and drugs were rampant at most high schools.
Nitz enrolled at Benson Polytechnic High School instead and studied architecture. He graduated in 1986 and bounced around to a couple of local colleges but dropped out after two years to run a neighborhood video store where he had worked in high school. He was forced to shut the store after two years, however, when competition came from big chain video stores around the corner.
So Nitz earned an income doing drafting work for a local company, working as a butler at a bed and breakfast, and wondered what else he should be doing with his life.
That's when he found Madison. It was 1992, and he realized that he had always had an interest in working with kids. His mother was a longtime school teacher - now at Beaumont Middle School - and most of his family was in ministry. He had wanted to be a youth minister when he was young, but lost interest in organized religion.
So he did what he could do without a teaching degree. He signed up to be a substitute educational assistant for Portland Public Schools.
By coincidence, his first assignment was at Madison, as an educational assistant - someone who works in the classroom, helping out special education students to see that their needs are met and that they aren't disruptive.
He loved the work, and at the end of the second day he was hired permanently. He connected with one student, in particular, 15-year-old Joseph Janson. Joseph had muscular dystrophy, a progressive muscle disease that confined him to a wheelchair.
'When I met Joseph, he was a little chubby, loved to draw, was super talkative; we just hit it off,' Nitz recalls. 'From the get-go, he and I were the best of buds.'
On some days, Nitz took Joseph to the pool for therapy. Other days, they went to the mall to practice using public transportation. Nitz took Joseph to a job site, where Joseph spent mornings learning to stack trays. Nitz built a ramp for Joseph's power wheelchair and became an advocate for him.
He also outfitted him with a custom-made coat, noticing that 'he'd show up to school every day in a ratty old cardigan,' Nitz recalls.
Rather than buy him a coat - which would bunch up in the back as Joseph sat in his wheelchair - Nitz drew on his sewing skills, which he'd honed in parochial school. He designed a nylon coat that opened in the back, fastened with Velcro and protected his wheelchair and knees from rain. He tried to get it patented or sold, but was told it was too small a market share.
Earthstock takes off
The most lasting thing Nitz did for Joseph was to create Earthstock, seeing how limited his social opportunities were. Joseph and his classmates with disabilities - physical, emotional, social and intellectual - often needed special transportation, couldn't attend nighttime events, needed adult assistance and risked being ridiculed by others for being themselves.
So the first year, Nitz found a vacant school gym and brought in his home stereo equipment for 60 special-ed kids to dance in their own space, free from judgmental eyes.
But he needed a name for the event.
It was 1992, and he had just seen 'Wayne's World II,' in which comedian Mike Myers creates a festival for himself called 'Waynestock.'
Nitz didn't want to call the dance 'Tonystock,' but did want to mark the event for a holiday. The closest one, in April, was Earth Day.
Earthstock was born. Over the years, the event has taken off as Nitz has invited more and more school districts. On April 17, 600 kids from Portland, Hillsboro, Beaverton, Gresham, Parkrose, David Douglas, Estacada, Canby, Vancouver and Camas, Wash., descended on the Crystal Ballroom.
McMenamins has donated the use of the ballroom for the past 12 years.
The kids treated the three-hour morning event as a field trip. Most took school buses, while some Portland students took TriMet along with their teachers, educational assistants and dozens of student volunteers.
Val Gogoleski, who's taught special education at Madison for 23 years, is a regular at Earthstock, showing her spirit every year with a tiara and sparkly earrings.
'Tony gives from the heart and pocketbook,' she says. 'He's just a good, kindhearted soul. We need people like him. We have a lot of needs.'
Joseph got to enjoy Earthstock for four years, until he died of muscular dystrophy in 1996. The death hit Nitz so hard that he says he couldn't continue working in special ed classrooms. So Madison moved him to the book room, where he worked for 10 years until that position was consolidated, and he was assigned as the testing coordinator this year.
He's gotten by all these years without a teaching degree, filling in the gaps where his help has been needed most.
Nowadays, he's a bit more overwhelmed than usual, having run Earthstock on his own for 17 years but now realizing he can't afford to sustain it. 'I was living in an apartment; last year I bought a house and new car so it's become a little more difficult.'
So he's looking to gain nonprofit status for Earthstock next year, which will allow him to solicit sponsorships, form an advisory board and take it to the next level.
He hopes to get a major Portland-based band like Everclear or Modest Mouse to perhaps play a gig next year, as a morning sound check for a nighttime event at the Crystal Ballroom.
Nitz has waited this long to make Earthstock its own entity because he hasn't wanted to give up control. It is his baby, in a way.
It's also a part of him for life - literally. Six weeks ago, he got a hand-size tattoo of the Earthstock logo - various animals dancing around the earth - on his right calf. It was painful but worth it, he says. 'People put their kids' names on their tattoos, right? This is going to mean something forever.'
This email address is being protected from spambots. You need JavaScript enabled to view it.