FONT & AUDIO
SHARE THIS
MORE STORIES
---
Cheaptown, USA
Details

Anne Marie DiStefano
'Skint Portland' helps travelers see the city on pinched pennies
Posh day spas, boutique hotels and nationally recognized restaurants are among the things you won't find in Skint Press' guide to Portland.
---
'Skint Portland: For the Frugal Vagabond' is the first in a projected series of guidebooks for those who travel light in the wallet.
With a humorous tone, the guidebook explains the layout of the city - 'the city of Portland is separated into five quadrants' - and explains where to eat, sleep and have fun on the cheap. Recommendations range from the practical to the slightly shocking (the directions to Forest Park, for instance, are in the chapter on good places to spend the night).
Skint's editor and publisher Mary Locke is a Portland resident whose own experiences as a frugal traveler inspired the book. Born and raised in Cedar Rapids, Iowa, Locke left home to spend a year in Edinburg, Scotland. She then moved to Portland, and later spent a year in Australia, where a road trip formed the seed of the Skint idea ('skint' is British slang for having little money and few possessions.)
The 26-year-old attends Portland State, studying English with a minor in black studies. She was also able to take some classes in the school's graduate-level book publishing program.
The underlying message of Skint Press is that you don't have to rely on your two-weeks-paid to get out there and see the world. You can go cheaper and stay longer.
'I get asked that question all the time,' Locke says, 'how do you save all this money to go to these places?'
She answers, 'I don't save up that money to begin with. And when I'm there, I find the cheapest way to do everything. Stretching the dollar, stretching your stay.'
In the end, she says, it can be a more rewarding experience: 'If you value experience over consumption, it's what your focus is when you travel. Like, if you're trying to have really positive adventure experiences, versus going shopping at more high-end boutiques.'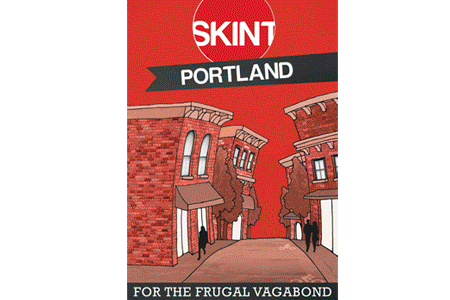 TRIBUNE PHOTOS: CHRISTOPHER ONSTOTT AND BECCA QUINT • "Skint Portland' will most likely attract independent, adventuresome travelers interested in cheap bars, live music and record stores. Powells City of Books, the Cheerful Tortoise, the International Rose Test garden, the Friendly Bike Guest House, Ground Kontrol, and 2nd Avenue Records are top on the list.
Promoting different Portland
While she hesitates to name an ideal reader, Locke says they're more likely to be under 50, independent and inclined to adventure. When they do shop, they want to go to record stores, bookstores and thrift stores. They're more interested in live music than historic markers, and they're looking for the cheapest bar, not the one with the most innovative cocktails.
'When I was traveling with different guidebooks, that is always what I wished they had more of,' Locke says. 'That's what I saw was lacking.'
Because of that focus, 'Skint Portland' might be of more use to resident Portlanders than a typical guidebook. For instance, did you know that the Cheerful Tortoise serves a $1.99 breakfast? Or that Umpqua Bank is basically a free Internet café, free coffee included?
Locke and four contributing writers combed the city, approaching it with bluntness, humor and an anti-yuppie attitude. Of 82nd Avenue the book says, 'Don't go here at night, or during the day.' Of the Pearl, 'The only reason to go to the Pearl is to have your white privilege reflected back at you.'
It is possible that those concerned with Portland's image will take issue with the book, or even feel that it attracts the wrong kind of tourist. This is a Portland where the Yamhill Pub takes precedence over Pioneer Courthouse Square, and the city's growing tourist industry may not thrive if all the visitors eat at the St. Francis Soup Kitchen.
But Locke doesn't see it that way.
'I would say that my book does promote Portland,' she says, 'just different parts of it, a more adventuresome, inexpensive part of it.'
This is Locke's first foray into travel writing. Her main interest is in publishing, and if things go well, she has plans for more Skint guides, starting with San Francisco and New York. Skint Press could conceivably branch out into other types of travel books, as well.
'Skint Portland' will be released on June 25 at a party at the Polish Library Assembly Hall, with music from DJ Joe Bear and snacks provided by Miss Delta - for free, of course.