FONT & AUDIO
SHARE THIS
MORE STORIES
---
E-cigarettes are gaining in popularity, and agencies are rushing to regulate their use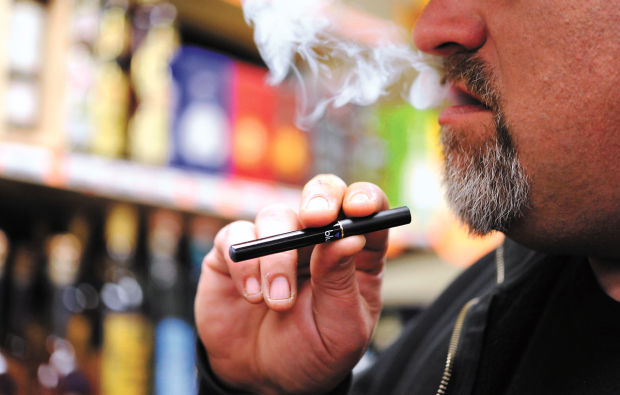 (The World Link) — NORTH BEND -- The haze shrouding e-cigarettes has thickened in recent months.
---
So much so that the Coos County Public Health Department released a position statement on e-cigarettes last week.
"Stephen (Brown, tobacco prevention program coordinator) had been getting inquiries about it," said Nikki Zogg, department director. "We talked about putting out a position paper or policy statement and make recommendations to the commissioners."
E-cigarettes are battery-powered and deliver pure nicotine through water vapor. They are about the same size as conventional cigarettes.
There are no state or federal laws regarding their use yet. But there are some jurisdictions, such as New York City, that have passed a law prohibiting smoking indoors. There also is a bill that may be proposed during Oregon's 2014 legislative session, banning the sale of e-cigarettes to minors.
Those who use them, swear by them.
"It covers your craving," said Mike Huffman. "You can pick it up, take two drags and put it down."
Huffman, who's been smoking regular cigarettes for about 20 years, picked up the e-cigarettes about a year ago after he saw some television commercials and a vendor for the product visited his store. He manages a liquor store on Central Avenue in Coos Bay.
Huffman now offers two e-cigarette products, Cig2Os and Blu, at his store. He prefers Blu "because it's a lot lighter." They cost from $9.50 to $36.50, depending on if you want a disposable, single-use one or if you want a pack, which comes with five filters, two batteries, the e-cigarette and the box. He said the batteries can be recharged in the box.
Popularity for the product has grown, Huffman said.
"People switch over to e-cigarettes because you can't smoke in places anymore," he said. "And one (e-cigarette) filter lasts as long as a pack of cigarettes."
Huffman said he smoked e-cigarettes for those reasons, too. He also said he was trying to quit smoking so he could breathe better and his clothes wouldn't smell.
But, Brown said e-cigarettes weren't proven to help folks quit. He cited a study in the Oxford Journals that said abstinence at seven months was 21.7 percent for those who'd used e-cigarettes for one month or more and 16.6 percent for those who used them for less than a month, as compared to 31.3 percent seven-month abstinence for those who hadn't used them.
The Oregon Health Authority Public Health Division's website has urged businesses and local jurisdictions to prohibit the use of e-cigarettes.
"It's definitely a hot topic," Brown said. "People don't realize the issue. It's another way of becoming addicted to nicotine."
Coos County's position paper said it "stands in opposition to the use of all tobacco and unapproved nicotine delivery products such as electronic cigarettes."
In addition, Bay Area Hospital prohibits e-cigarettes. Its policy states, "Tobacco use includes e-cigarettes and other microelectronic technology." It also says tobacco use is restricted to designated areas at BAH.
Zogg said she wouldn't recommend the commissioners make a county ordinance yet, but would in the near future.
"We're trying to look more proactively about health issues in the county," she said.
She said smoking rates in the county caused alarm.
"It's concerning because we already have high smoking rates," she said.
Cigarette smoking is the single leading preventable cause of death and disease in Coos County, according to the 2013 Community Health Assessment. It said more than 25 percent of deaths were caused by tobacco use per year in the county. About 28 percent of adults and 23 percent of pregnant women reported smoking in 2010.
Zogg said she was concerned about the effect of e-cigarettes on young people. Use of e-cigarettes doubled among youth from 2011 to 2012 and up to 20 percent of high school e-cigarette smokers hadn't previously used tobacco, according to the Centers for Disease Control and Prevention.
"It can cause young people to move toward regular cigarettes," she said.
The statement said e-cigarettes were "visually attractive, look novel and innovative, and come in a variety of flavors. There is growing concern that e-cigarettes may emerge as a 'gateway tool' for youth to additional tobacco product usage.'"
"There is a serious or justified fear that they're another way to perpetuate addiction," Brown said. "Teens are seeing them as cool and are getting addicted to them."
He said tobacco companies were targeting young people.
"All you have to do is look at ads and you can see they're blatantly targeting youth," Brown said.
Brown also said e-cigarette ads "increases the appeal of rebelling toward adults."
Huffman said he and many other places wouldn't sell them to those under age 18.
"We'd be opening a whole can of worms by selling to minors," Huffman said. "I treat them just like I would a real cigarette."
High doses of nicotine can be fatal in humans, it said. The lethal dose for children is just 10 milligrams, however, e-cigarettes can deliver up to 24 milligrams, according to the health department's statement.
Since so little research exists about the effects of e-cigarettes and they're similar to regular cigarettes, Zogg cautioned against their use.
"The best option would be not to smoke," Zogg said.
Reporter Emily Thornton can be reached at 541-269-1222, ext. 249 or at This email address is being protected from spambots. You need JavaScript enabled to view it. or on Twitter: @EmilyK_Thornton.
Click
here
to visit our news partner.