Native group builds a Portland community
Most of the 'elders' at the table admit they never thought they'd see it happen in their lifetime - that the Native American community in Portland would be able to secure a permanent space of its own.
---
'We've all advocated for the same dream - somewhere for our people to be together and be recognized for who we are,' said Arnold Little Head, 59, a Portlander of 30 years who was born on the Fort Peck Indian Reservation in northeastern Montana.
The dream could become a reality this month if the Portland school board approves the sale of the former Lakeside School property in Northeast Portland to the Native American Youth and Family Center.
The nonprofit cultural organization, which uses the acronym NAYA (for its former moniker, Native American Youth Association), has leased the 10-acre Lakeside property at 5135 N.E. Columbia Blvd. from the district for the past three years. From that site, the group offers a wide array of programs - everything from a private high school and early college academy to tax, job and homebuying help for families, case management for foster kids, and an elders' social room for aerobics, crafts and potlucks.
NAYA has poured millions of dollars from grants and fundraisers into upgrading and remodeling the building, embracing it because of its cultural significance. To the native community, it is sacred ground, recognized as the original location of an Indian village known as Neerchokikoo, dating back to 1792 and later cited in Lewis and Clark's journals.
Since the district has determined that the Lakeside property is no longer needed for a future school site, NAYA is in the process of buying it for the market value of $2.9 million.
The purchase would be the capstone of NAYA's rapid growth over the past eight years, having expanded from an organization with an annual budget of $215,000 and a staff of five to a budget of $8 million and a staff of 100.
'It's pretty awesome, really,' said executive director Nichole Maher, 30, who proudly touts her Alaska Tlingit heritage and took the lead of the organization in 2001. 'Our community's been dreaming of having our own place for over 100 years,' Maher added. 'With such high poverty rates, we don't have a gathering place. Now we do.'
But it's not a done deal yet. The school board's 60-day public process for the declaration of surplus property and sale to NAYA just wrapped up in late June. It is set for the board's finance committee today and then goes up for the full board's approval on July 20.
The process so far has generated broad support from leaders at the city, county, Metro, Port of Portland and Portland Parks and Recreation, which owns the adjacent land called Whitaker Ponds and uses it as a wildlife habitat learning site.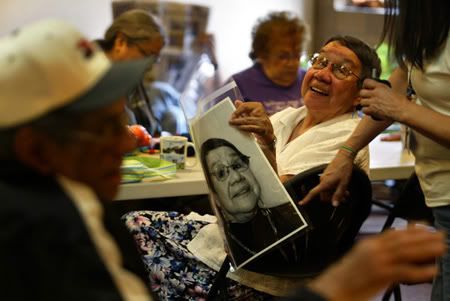 TRIBUNE PHOTO: L.E. BASKOW • Lois Chilcott, 74, beams as she shows off her portrait, which will be displayed among others at the NAYA Family Center.
If the school board does approve the sale, the district will place the $2.9 million into its reserve fund for capital improvements. And scores of local Native Americans will have a new home, for good.
An improverished population
According to NAYA, Portland has the ninth-largest native community in the U.S., with members of 380 tribes living here because it was once a federal relocation site.
About 135,000 of the country's 2.5 million urban Native Americans live in four metropolitan areas: Seattle; Billings, Mont.; Rapid City, S.D.; and Portland. And about 40 percent of those people live at or below the poverty line.
'Oregon has a particularly devastating history in the last 30 years of Native Americans,' Maher says. 'It's a highly impoverished, diverse community.'
Since moving into the outdated school space at Lakeside three years ago, NAYA has made the space its own with a complete refurbish and sleek upgrades that include a solar panel roof, state-of-the-art kitchen, computer labs and native gardens.
Supporters say the organization's growth and success could not have happened without Maher's leadership.
'It seems like the native community in Portland has been without a voice for a long time,' said Matt Morton, chairman of NAYA's board of directors and deputy director of the National Indian Child Welfare Association. 'We've found our voice in many ways in Nichole. She has the tenacity and presence to be in high-level meetings and educate the community what the native community is all about.'
A case in point was three years ago, when Maher was steadfast in her pursuit of a grant from the Minnesota-based Northwest Area Foundation, a nonprofit that aims to combat poverty.
In 2003, the foundation had approached Native American leaders in Portland as well as Billings, Rapid City and Seattle, asking if they'd work on a process to reduce poverty for native communities.
The four cities launched their own campaigns. In Portland, groups of native youth and elders surveyed 6,000 households in the metro area to collect demographic information such as residents' income and rent amounts.
Two years later, after the data were submitted, the foundation denied the grant to Portland as well as the other cities. And Maher and the community were disappointed, to say the least. She wrote an article in a philanthropic journal, telling the story of what happened 'to make sure that no other community has to go through this.'
Maher says now that NAYA's first grant application wasn't that good and that the community surveying was just the first part of the grant process - a valuable one that netted scores of data in use today.
After the second try, the foundation awarded NAYA a $3.4 million grant, $2 million of which was put toward the purchase of the new building and the rest toward community organizing and poverty reduction.
TRIBUNE PHOTO: JONATHAN HOUSE • Lorne James and his niece, Cecilia Buffalo, greet other participants of a community round dance during NAYA's recent summer gathering.
Maher is gratified, pushing on with the tasks ahead. While Native Americans are just 4 percent of the county's population, they are 10 percent of the homeless population and 23 percent of the foster care system.
Just two-thirds graduate from high school within four years, and Native American women have the largest rate of domestic violence locally and nationally, Maher says.
Because of her grasp of the issues, Maher has won a big fan base. Ten thousand members of the community gave small cash gifts toward the purchase of the building.
She's been able to leverage the support into grants for NAYA from major philanthropies such as the Meyer Memorial Trust, Bill and Melinda Gates Foundation, M.J. Murdock Charitable Trust, Spirit Mountain Community Fund and others.
'She's a born leader,' said Little Head, one of the elders. 'She listens to the elders. She asks us for advice. She respects us, and the respect is mutual.'
Making the building their own
The building could not have come at a better time for NAYA, which had been quickly outgrowing its space on North Mississippi. The former K-8 and middle school was first built in 1938, then rebuilt in 1964 after it was damaged by a fire. It closed to students in 1983.
Since then, the district has used the 65,000-square-foot space for special programs, district activities, equipment storage and emergency space for students who needed to be relocated.
From 2000 to 2005, Whitaker Middle School used the space when that school's nearby building was found to be contaminated by toxins. When the school moved out, NAYA moved in with a lease and indicated its desire eventually to buy the property. The association spent the past few years raising the capital and waiting for the district to assess its facility needs.
In 2008, the Lakeside property was determined to be undesirable for a future school, should enrollment increase. The location and size were deemed unsuitable, and its facility needs too costly for the district to take on.
NAYA is addressing many of the facility issues, including a new solar panel roof and replacing the boiler and heating system, among other fixes.
The district also has four other so-called vacant 'swing' spaces that could be used in an emergency and that will be used during the next several years while school buildings are being rebuilt in a major facilities upgrade.
Before moving to this location three years ago, NAYA had occupied three sites in Portland - all of which, ironically, were declared as urban renewal areas, forcing NAYA to relocate when the rents skyrocketed.
In 2006, 700 members of the native community gathered at the Lakeside campus as descendants of the Chinook Nation gave their blessing to NAYA to make it their home. This fall, NAYA will have another blessing of the building, this time for good.
Campus like university
Now, walking around the all-encompassing NAYA campus feels more like a walk around a small university.
The campus boasts a brand new kitchen that caters all of the meals for the program, private high school space for 100 students, four computer labs for community and student use, a state-of-the-art science room, and ample space for programs such as a teen parenting class, domestic violence prevention and an arts and culture room.
There's a community room that doubles as free meeting space for neighborhood associations and government entities to use. The school gym accommodates the program's 10 basketball teams, since NAYA serves not only its own high school students, but 1,400 youth from school districts across the region.
Creative partnerships abound. Most of the furniture - everything from computer desks and conference tables to file cabinets and lounge sets - was donated by local retailers, banks and organizations.
Local artists donated most of the wall art and photography. A local nonprofit group called Verde landscapes the entire campus, free of charge, in exchange for some desk space for its executive director.
On most days, the place is abuzz with activity. While the elders have their own social room, they often enjoy eating in the cafetorium with the youth in the building. A group called the Portland Youth and Elders Council holds regular meetings to discuss deep-seated issues such as racism, health, education and employment.
'We were born on the reservation, where we grew up and were raised by our aunts, brothers, sisters,' said Linda Looking, Little Head's wife. 'The philosophy is, we look after each other. We use the same concept here. This is a big reservation.'
This email address is being protected from spambots. You need JavaScript enabled to view it.
---
CRITICS DON'T WANT SCHOOL PROPERTY SOLD
No one is formally opposing the sale of the Portland Public Schools' Lakeside School property to the Native American Youth and Family Center.
However, a small group of school activists oppose the way the district has been selling off some of its surplus property in past years - this one included.
Critics take issue with the district's Real Estate Trust - the volunteer group of real-estate experts who advise the district in its selling and leasing of underused properties. The critics feel the private trust shouldn't have a role in deciding the fate of public land.
'Even though that is land zoned industrial … I feel school land should never be sold for silver or gold,' said Lynn Schore, a Southwest Portland parent and co-founder of the Neighborhood Schools Alliance, a district watchdog group. 'If anything, it should be put into a real estate rainy day-type fund - I don't believe in 'surplus property' in Portland.'
Schore and Southeast Portland resident Mark Bartlett, who also closely follows local real estate issues, testified to that effect in December as the board changed its surplus property policy. The revised policy states that the Real Estate Trust has only an advisory role to the school board, meeting a few times per year to address specific property issues the board brings to it.
'There's a good reason people in 2002 may have been cranky about the Real Estate Trust if they think it was given cart blanche to sell off property and never consult with the public,' said Doug Capps, who oversees the trust for the district.
'In 2002, (the trust) could be given authority by the board to market district property, but that authority was never exercised, and they no longer have that authority.'
He added that after the district sold off a string of surplus properties from 2002 to 2004 to raise some revenue, the board has since indicated that further sales of surplus property will be 'rare.'
In the past four years, the district has sold a couple of properties, including selling part of the former Washington Monroe High School in Southeast Portland to the city for $5.4 million in 2005 for future construction of a community center. The other part of the school property was nearly sold to Portland-based Beam Development for development into condos, but Beam backed out when the condo market soured.
In 2006, the district sold the former Ball Elementary School site in North Portland to the city for $800,000. In a controversial deal, the city then gave the site to a nonprofit to develop an intergenerational foster care home called Portland Hope Meadows.
In the sale to NAYA, to further ensure transparency, Capps said, 'We were extra careful to send public notice not just through normal channels but to blanket half of the world that this plan was going forward. And we haven't heard anything.'
- Jennifer Anderson